Dentistry is among the oldest medical fields, dating from 7000 B.C. Later, pioneers began developing dental equipment that would transform this vital field. One of the most significant of these innovative developments was the invention, in 1868, of a pneumatic dental drill by an American dentist, Dr. George Green. He developed an electric version in 1875.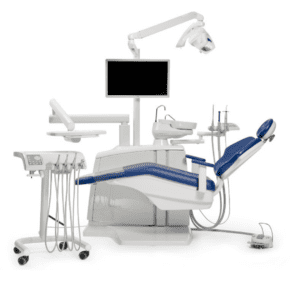 However, the drills were just one of several revolutionary advances in dentistry during that era. Twenty years earlier, another American dentist named Dr. Horace Wells discovered the anaesthetic properties of nitrous oxide, opening the door to pain-free treatment.
During the 1850s, Dr. Thomas W. Evans, founder of the Pennsylvania School of Dental Medicine, introduced porcelain teeth as an alternative to ivory dentures that quickly became stained. Interestingly, staining made them appear brown and might explain the mistaken belief that a particular U.S. president had wooden teeth. In 1895, Wilhelm Roentgen discovered X-rays, and a year later, a German dentist became the first to apply dental radiography.
Twentieth-century advances in dental equipment
While the advances of the previous century were significant, they were merely stepping stones to the dental compressors, dental stools and dental reception equipment that followed and continue to transform dentistry for practitioners and their patients today. Progress has been constant and rapid, forcing modern dental supply companies to keep abreast of the latest dental equipment, its uses and how to maintain and repair it.
The birth of the printed circuit and digital technology can be linked to the invention of the transistor, but its full potential was only realised with the advent of the Internet. The subsequent developments in dental equipment have been spectacular. The following are some practical applications of digital technology that have become indispensable to the modern dental practitioner:
The intraoral camera: These compact, handheld devices have replaced bulkier conventional models, employing powerful imaging software to generate full-colour, high-definition photos and video footage. The Durr VistaCam IX HD model has a narrow, rounded head for easy access to the rear molars and a motion sensor that turns off the camera between shots.
The intraoral X-ray camera: The Belmont Touch model is the first to have touch screen operation. It's easy to operate and instantly switchable between digital and film modes. A no-drift arm ensures accurate, stable positioning, and the unit can display error codes, making it easy to report faults to an engineer.
Cone Beam Computed Tomography: CBCT is a form of advanced X-ray producing 2D or 3D images of hard tissue structures, like the jaw, bony facial and nasal structures, and teeth. The Acteon Prime CBCT offers a compact 3D solution and is one of six models available from Hague Dental Supplies.
CAD/CAM systems: This technology is one of the most significant advances in dental equipment, heralding a new era of chairside restorations. A single integrated system converts a scanned intraoral image to a 3D model from which a milling machine creates accurate ceramic structures like crowns, veneers and implants.
A leading supplier of dental equipment
Hague Dental Supplies sells and maintains leading brands of dental stools, dental compressors and dental reception equipment in the Midlands and Southeast England. If it's time to upgrade your practice, please get in touch.