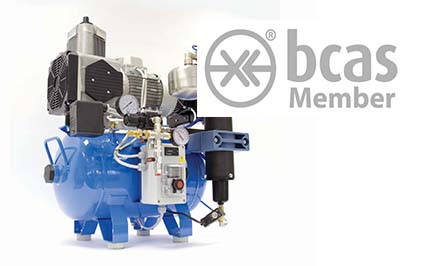 Hague Dental was set up in 1996 to provide quality dental engineering, with rapid response times, since then we have gone on to develop our services further including Dental Pressure Vessel Inspection, Written Schemes and Certification for Compressors.
Our team are BCAS members with means they are certified to officially carry out this service.
The safe operation, maintenance and servicing of these units is essential to the efficient running of the practice which in turn will form the basis of compliance to the Pressure Systems Safety Regulations 2000 and the Provision and Use of Work Equipment Regulations (PUWER) 1992.
All compressors must have a Written Scheme of Examination prepared for each vessel by a competent person:
Employers must ensure that all work equipment is safe and in good working condition
Each vessel must be inspected at regular intervals as specified on the Written Scheme of Examination
A written report must be provided at each inspection detailing the condition of the vessel/s
Each vessel must be serviced and maintained in accordance with the manufacturers recommendations
Records of servicing and inspection must be kept
All members of staff must be fully trained in the operation of autoclaves prior to use.
Further information is available on our autoclave servicing and compressor servicing
Hague Dental Pressure Vessel Inspections are available on the majority of dental vacuum and non-vacuum autoclaves and compressors. Our highly qualified engineering team will perform a:
Pressure Vessel Inspection to a Written Scheme of Examination in accordance with The Pressure Systems Safety Regulations 2000 and Certification of the Compressor.