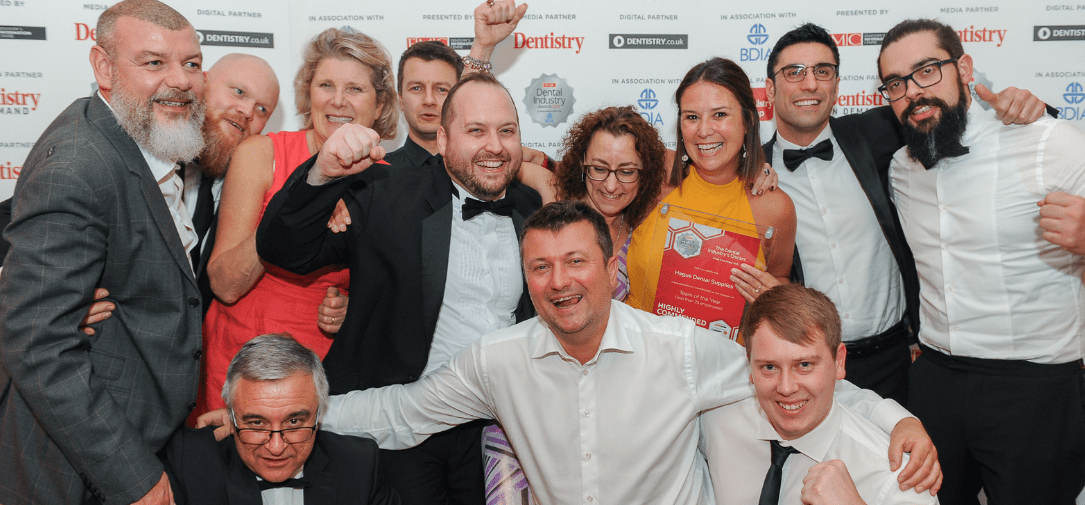 Gemma Barker of Barker PR, a sponsor of the Dental Industry Awards, speaks to Kirsty Hague, Marketing and Interior Design Director from multi-award-winning Hague Dental about how their multi award wins over the last seven years have helped to build their business.
Kirsty Hague is the Interiors and Marketing Director at Hague Dental.
Gemma Barker is the Managing Director of Barker PR.
Gemma: You've been entering the Dental Industry Awards since it began in 2015 and been on the winners list every year, what was your most memorable year to date?
Kirsty: Definitely last year, for me. Having been so successful in previous years at the Dental Industry Awards and coming up to the 'over 25 employees' threshold and competing against big businesses in the industry that have been around a very long time, it's fair to say we did quite well. We won team of the year,  service and repair company of the year, customer service provider of the year, and outstanding business, which was just phenomenal. We're quite a modest company and we never think we're going to win. And every year it's just the most incredible feeling.
Gemma: What did those wins mean to you and to your team?
Kirsty: I think the most important thing is extending a huge thank you to my team, who are so committed and hardworking. Everyone puts in 100% and is striving for that same, high-quality service. And then it's a big thanks to our customers, because so many of them have been really loyal to us over the years and we really appreciate that. So those things combined, it's really nice to be recognised for our hard work and our love of dentistry.
Gemma: Do you think the wins make a difference to your existing customers?
Kirsty: I think it's a boost for them, because it gives them added confidence that they are working with one of the best in the market. Sometimes people question us, saying that we're one of the most expensive in the industry for what we do, but then we pride ourselves on having one of the best and most dedicated engineering, project management and design teams at a cost.
Gemma: How do you market those wins, to raise awareness amongst the dental profession?
Kirsty: We do a fair bit on social media; if you're not using those platforms in this day and age, then you're really missing a trick.
Then, we have the UK's biggest dental showroom and when people come for a tour, they see not only the equipment they can purchase and learn about the services we provide but also, we have two big cupboards full of certificates and trophies, which is pretty impressive.
That said, we're not a team that pushes the awards in people's faces but it's really nice having them sitting in the background, subconsciously sending the message, "We're a really good team and strive to be the best".
We also make use of the winners' privilege to use the award logos, putting them on our vans and on our adverts. They really do stand out as awards icons, whether we're in Harley Street or at a smaller but equally important practice.
Gemma: Do you think the award wins have helped you to secure new business?
Kirsty: That's always a difficult thing to confirm, as nobody ever tells you they've given you their business because you've won awards. However, I can tell you that since we've been winning awards, our business has grown about four-fold. So, something is definitely helping us along the way.
More than anything, I think it's given us real confidence to keep on doing what we do and believe in ourselves. The awards reinforce the mission and ethos we have embraced from the very beginning, and repeatedly winning shows us we're doing things the right way. That extra certainty has helped us to keep pushing forward and get to where we are now.
Gemma: We've always loved celebrating with you at the awards ceremony – we'll miss you this year!
Kirsty: We really do enjoy it. My husband is upset because we aren't going this year. It's just that we made the decision not to enter this year's awards because at the rate our team is growing, we felt our best use of time was to concentrate on our customers. As worthwhile as it is, it does take quite a lot of time to prepare an entry, and with our new service offerings, including engineering servicing contracts and my new role focused on interior design, this year our business need is slightly different. But we'll be back!
Gemma: What message do you have for anyone shortlisted and feeling nervous ahead of the awards?
Kirsty: Just enjoy the moment and be super proud that you've been shortlisted. Not everyone gets shortlisted, and that feeling of being part of a very special industry is amazing on the night. If you win, it's incredible. But if you don't, the takeaway is to be proud of what you've achieved this year. For me, that's what the awards are about – celebrating all our hard work and achievement. Wherever you land, as a finalist, runner up or the overall winner, make sure you get that information over to the various media channels straight away. Keep pushing forward and be proud!
For further information on how multi-award-winning Hague Dental can help you create your ideal practice and keep it that way long into the future, please visit www.haguedental.com, email enquiries@haguedental.com or call 0800 298 5003.
Barker PR is an award-winning PR and communications agency, specialising in dentistry. For further information, visit www.barkerpr.com or email gemma@barkerpr.com.