Kirsty Hague, Interiors Director, explores the benefits of visiting a well-equipped and well-organised dental equipment showroom, rather than relying on websites for such important and expensive additions to the practice. 
When you last bought a car, did you buy it sight unseen from a website? I'd wager not. After all, it's a very expensive and important piece of equipment – it needs to be reliable and robust enough that you have confidence that your loved ones will be safe in it.
You need to test drive it and ask questions that pop into your mind, either at the time or later with the car sales rep. Plus, as much as we might all deny it in certain circles, body colour and seat fabric do matter!
Why then, do some practice owners think that it's good enough to peruse a few websites for their next dental chairs, reception desk or decontamination room upgrade?
It just doesn't make sense, and here's a few reasons why…
The right type of showroom will offer the perfect environment to sit down with a knowledgeable Design and Equipment Consultant, who will make the effort to get to know you and gain insight into how you'd like your dream practice to look, offering honest advice and enabling you to put your stamp on it.
Here are a few things a physical showroom can offer that the best website ever designed in the history of the world cannot:
The opportunity to discover and learn about new equipment with a truly hands-on approach
Allows you to get in the zone and really focus on what you need and want
Knowledgeable staff will understand your requirements, both for now and to future-proof the practice, and help you plan accordingly
It can be a team outing, offering the opportunity for people to feel valued about what they think. After all, it isn't just the dentist who will be using it
You can be sure that all equipment meets quality standards. For example, the fact that dental equipment can be bought from eBay – and people purchase it – is horrifying
Peace of mind – meet some of the project team that would work on your project (interior designer / project managers, etc.)
Last but by no means least, a comprehensive, one-stop-shop of a showroom will mean you can look at everything in one place and see to what extent they will work together in reality. 
Getting your vision right
Award-winning Hague Dental happens to have the largest dental equipment showroom in the UK, so you can rest assured we know how to set out our stall to offer our clients the best level of service and expert advice when they walk through our doors.
What you want to see is a well thought-out and zoned showroom with a wide range of products to suit every budget (preferably offering new, pre-owned, and ex-showroom), including but not limited to:
Dental practice design (dental chairs and cabinetry)
Plant room
Design, for example, flooring, upholstery, and paint samples, as well as lighting, door furniture, doors themselves, feature walls, etc., and the ability to create 2D and 3D plans.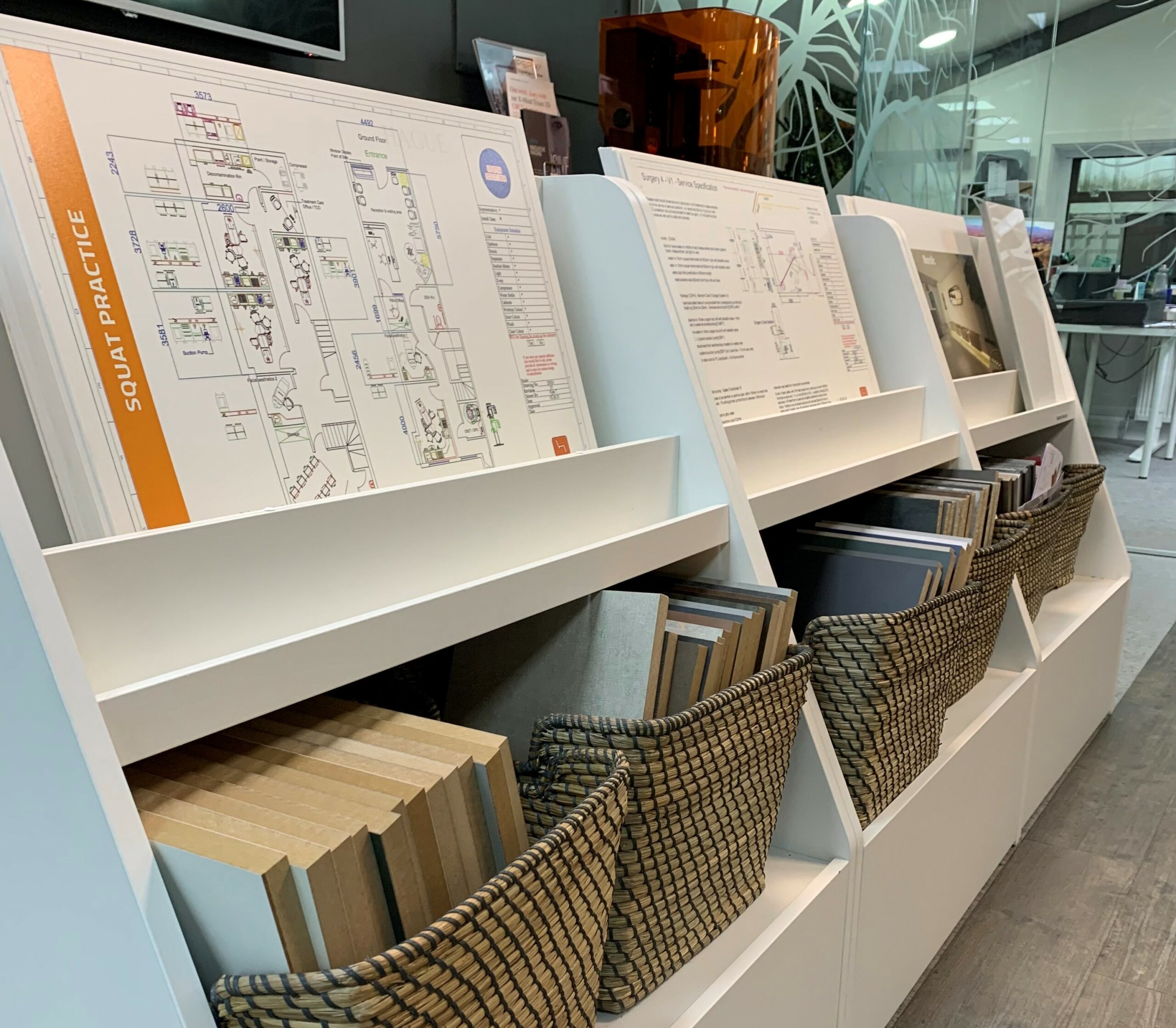 In each case, you should be able to experience well-respected and proven brands side by side, enabling direct comparison.
Then there's opening times – we know how busy your days are and that you are often time poor, so a good showroom will offer flexibility, such as after-hours and weekend appointments, upon request.
An experienced and knowledgeable Design and Equipment Consultant will be able to offer solutions to cover all aspects of practice refurbishments, from a reception desk's bespoke design through to the digital workflow.
This experience should encompass both practice and showroom visits to ensure an informed decision can be reached.
To explain why, let's return to the car analogy for a moment. During a test drive, you want to make sure the seat is right, the vision is good, the controls are in the right places, there are the right levels of efficiency and performance, etc.
There is such a broad range of makes and models of cars because people vary so very much in their needs and wants, and designing a dental surgery is no different. This applies to both the equipment and décor.
The right showroom and the best Design and Equipment Consultant can ensure your vision combined with their knowledge and experience results in the practice of your dreams becoming a reality, tailor-making the 'cockpit' around you to create your optimum working area. That's something we know all about, as the multi-award-winning team at Hague Dental has been supporting dentists and clinicians in developing their practices for 25 years. Indeed, we provide dental practices with quality engineering, world-leading brands, and innovative bespoke design solutions.
Your comfort is our business
Meanwhile, good ergonomic design creates an environment where everything needed for a procedure is within easy reach, thus maintaining the health of the team.  
Ergonomics involves designing the workplace to fit the needs of the worker rather than trying to make the worker adjust to the workplace; good ergonomic design has been shown to increase work quality and production, as well as worker well-being.
So, you need to find a showroom staffed with people who are prepared to get to know you, so they can focus on the way that you and your dental team function.
You know you have found the right place when, like us, they provide an initial on-site consultation with an equipment and design specialist, which includes a full room survey with laser precise measurements and full 2D CAD technical design.
Only in this way can the most suitable solution and equipment be chosen to match your individual needs.
Of course, alongside your daily working requirements is the necessity to meet patients' expectations.
This starts before they even step foot through the door, with many patients researching your practice on the internet, and you will want your branding to follow through from your website and social media onto the building's façade, as well as within. That is an important factor to consider during any refurbishment.
Plus, their experience within the practice itself is dramatically influenced by ambience, layout and staging. Patient ergonomics within the surgery equates to: (a) chair comfort, and; (b) how technology can increase speed and comfort.
This is where a showroom can really come into its own. With the former issue – chair comfort – being able to try out a number of dental chairs to consider patient comfort is going to be a big help. After all, how are you going to know if your patients are going to be sitting comfortably if you haven't tried before you buy? 
As for digital technology, a showroom allows purchasers to see for themselves how a range of digital solutions work, and which will relieve the pressure on dentists with technology that might, for example, simplify or speed up processes, or limit the need for patients to book additional visits.
Clearing up any confusion
A stool is a stool is a stool, right? Well, no, actually, but that's another story we can share with you when you visit us.
What you have probably never thought of as ordinary or simple, however, is creating a compliant practice that meets today's standards.
The good news is that, whether you are considering this from a CQC, HTM 01-05 or Document M standpoint, a showroom further helps to bring the 2D and 3D concepts to life.
For instance, experiencing a dental chair in a showroom enables you to understand potential access issues for disabled clients, to visualise your reception desk, and to look at solutions for ensuring an appropriate level of DDA compliance.
At Hague Design Centre near Gatwick, all the equipment is carefully selected by independent engineers, therefore promoting products based on their quality, longevity, reliability, and lower maintenance costs.
We understand the need to provide a product range for your surgery and practice that is reliable and robust, yet innovative and world leading.
To see all this for yourself, simply fill in the contact form below or email enquiries@haguedental.com or call 0800 298 5003 to make an appointment to visit our showroom.
Article drafted by BarkerPR 
Contact Form - Showroom Appointment
Send a message to our award-winning customer service team to make an appointment and we'll call you right back.