Description
Neodent Epos Saddle Stool
Ultra-resistant, thick, luxurious upholstery
The Neodent Epos Saddle Stool is the perfect companion for the dental nurse or assistant. 
Made of ultra-resistant, thick, luxurious upholstery, seamless for easy & hygienic cleaning and disinfection.
Comes in 9 customizable color options.
Safe Working Load of 160kg.
Available in 2 different heights: Short and Medium. 2-lever mechanism operation provides independent adjustment for the seat (height and tilt).
The saddle provides a natural inclination of the pelvis. This facilitates the correct posture:
As the thighs point downwards at an angle of about 45 degrees, the pelvis tilts forward and the lower back automatically takes on its natural curve. The strain on the lower back is reduced, the circulatory system is facilitated, which increases the supply of oxygen to the muscles.
It allows you to work comfortably for long periods of time.
You avoid the unpleasant pressure on the body as the back remains straight
The EPOS saddle has also been specially designed to offer you an enjoyable seating feeling: it is equipped with a rich polyurethane foam padding. The balanced foam (neither too soft nor too hard) provides the perfect ratio of support and relief from physical stress.
The ideal position is to keep your legs straight, slightly apart and your feet flat on the ground. This position will allow you to sit for many hours.
Suitable for any body type with variable height and inclination - available in 2 sizes depending on the height of the user (size S for users up to 1.80 m, size M for people of higher users).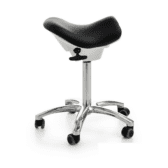 The Neodent Epos Saddle Stool is available in 2 versions:
Short version:

Minimum Height: 50cm

Maximum Height: 62cm

Medium version:

Minimum Height: 59cm

Maximum Height: 78cm
Practice Design Centre
Visit our extensive showroom, and speak to our refurbishment experts, about creating your ideal working space. Compare equipment (New and Used) and furniture from our world leading brands. Talk interior design and let us help inspire you. Appointments include weekends and evenings.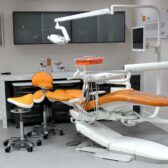 Trials Available
We encourage all of our customers (where possible) to try before you buy. Whether you are considering a saddle or more traditional stool, this is a long term investment for you and your health.