Description
Murrays Gemini SGEM-GT Dentist's Stool with Lumbar Support Backrest
The Murrays Gemini SGEM-GT Dentist's Stool with Lumbar Support Backrest is a traditionally shaped seat and is a little wider than other Murray ranges. It has full independent adjustment on the seat tilt and back rake. This stool is an ideal option for dentists.
The seat tilt and the back rest offers a synchronised facility, where adjustment is done simultaneously, this means users can find their optimum, preferred working position easily through the use of one handle.
Based in Arundel, Murray Equipment Ltd was established in 1953, and is a respected manufacturer of specialist, clinical seating supplying directly to the NHS.
Wide Selection of Upholstery
The stool can be created to match the colour of your dental chair package (A-dec & Belmont)
Foot Operated Control
Murrays supplies their range of posture seats with a optional foot ring. To enable you to keep you hands free during treatment.
Additional Armrests
The SGEM-GT has the option of adding adjustable arms.
Hand Controls
With these the height and angle of the chair can be adjusted to preference.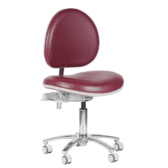 Practice Design Centre
Visit our extensive showroom, and speak to our refurbishment experts, about creating your ideal working space. Compare equipment (New and Used) and furniture from our world leading brands. Talk interior design and let us help inspire you. Appointments include weekends and evenings.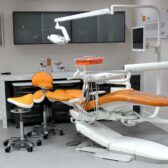 Trials Available
We encourage all of our customers (where possible) to try before you buy. Whether you are considering a saddle or more traditional stool, this is a long term investment for you and your health.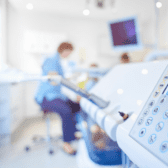 Got a question?
Click the "Can we help?" button in the bottom right of your browser and one of our award-winning team will contact you.