Description
Bambach Saddle Stool with Backrest
The Bambach Saddle Stool with Backrest has an adjustable back rest which can be adjusted in both height and angle. The purpose of the back rest is to provide efficient lumbar support.
The seat also comes with tilt, meaning operatives can find their preferred working position. The standard saddle stool is also fixed with high density padding, designed for all day comfort to prevent any strains and make long days a little easier. 
The ergonomic shaping of the Bambach Saddle Stool with Backrest is designed to relieve the back of any strain by ensuring the posture of the back and pelvis is in a neutral position, increasing both comfort and productivity, whilst avoiding any long term damage or injury.
The Bambach Saddle Stool with Backrest is suitable for use in any dental practice room.
The Bambach Saddle Seat was designed by Australian Occupational Therapist, Mary Gale. Following years of using horse riding as a therapy, she was often amazed at the profound effect simply sitting on horseback had upon the sitting posture and trunk control of individuals with neurological symptoms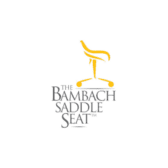 The Bambach Standard Saddle Stool with Backrest has a range of optional extras available:
Wide Selection of Upholstery
The stool can be created to match the colour of your dental chair package (A-dec & Belmont)
Foot Operated Height Adjuster
This feature means the operative can adjust the height of the stool hands free, which is very efficient in surgery or when hands need to be kept sterile.
Small, Medium or Long Stem Height Options
Small - Less than 5ft
Medium - 5ft to 6ft 1
Long - Over 6ft 1
Foot Ring
The foot ring enables the operative to work at a higher height whilst ensuring the pelvis remains in an upright, neutral position.