Description
Planmeca Compact™ i Classic Dental Chair Package
Ergonomic and practical
The Planmeca Compact™ i Classic Dental Chair offers a seamless workflow and exceptional user-friendliness:
Warranty
5-year standard warranty 
Ease of Use
Like all Planmeca dental units, it features a straightforward and intuitive touch panel, providing guidance in your preferred language and allowing effortless adjustment of essential unit, instrument, and infection control functions.
Foot Control
With the dental unit and instruments, you have the added convenience of operating them directly from the foot control, freeing up your hands for focused patient treatment.
Ergonomic Instrument Use
An ergonomic workflow is ensured by the balanced instrument arms, requiring only small movements to operate the instruments. Additionally, the unit can be equipped with hanging tube instruments. Its interchangeable instruments and easy console movements enable swift customisation to suit individual preferences.
Planmeca was established in 1971 and is a Finnish manufacturer of high-tech dental equipment, such as 3D and 2D digital imaging devices, dental units, CAD/CAM solutions, and software. Planmeca offer dental clinics a completely digital solution, based on the capability to network all digital dental equipment with one software platform.
The additional benefits of the Planmeca Compact™ i Classic Dental Chair are:
Relaxing Treatment Experience
The chair design is carefully contoured to conform to the patient's body, offering firm and reliable support. With the double-articulated headrest, patients can be comfortably positioned during procedures. Moreover, optional armrests can be added for extra support and comfort.
Durable
To ensure the highest level of durability, our dental units are crafted with aluminum parts and finished with epoxy paint. The seamless, powder-coated surfaces, combined with automatic flushing and cleaning programs, are designed to meet the most stringent infection control standards.
Planmeca PlanID™
The dental unit features the innovative Planmeca PlanID™ sign-in system, enabling dentists to access their personalised settings instantly. This flexible approach eliminates the need for assigning specific units to individual users, making it easier for clinics to utilise their equipment efficiently.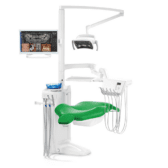 Specifications for the Planmeca Compact™ i Classic Dental Chair:
Mains frequency:

50 or 60 Hz (cycles) independent of the mains voltage setting

Power consumption

The idle power consumption is less than 300 VA. Maximum power consumption is 1200 VA.

Water inlet pressure

3 bar to 9 bar (43 psi to 130 psi)
3 bar to 6 bar (43 psi to 87 psi) with WEK system
1 bar to 9 bar (14,5 psi to 130 psi) with ActiveAqua system

Air inlet pressure

5,5 bar to 9 bar (80 psi to 130 psi)

Suction line pipe

ø min. 50 mm (2")

Drain line pipe

ø min. 50 mm (2")

Weight

About 130 kg
Site survey & 'PlanDemo' Planmeca's Mobile Showroom : Recommended
Practice Design Centre
Visit our extensive showroom, and speak to our refurbishment experts, about creating your ideal working space. Compare equipment (New and Used) and furniture from our world leading brands. Talk interior design and let us help inspire you. Appointments include weekends and evenings.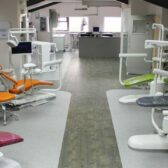 Equipment Consultation
Talk to the team about a demonstration at your practice for this product. Working alongside the UK dental industry's best manufacturers we will provide honest independent adivce. Equipment trials available on some items.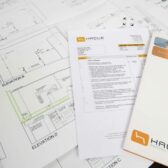 Hague Dental Team understand the financial demands on any practice. The extensive funds required for any surgery refurbishment, or investment required on the development of a new squat practice. We work alongside leading finance brokers that support the dental industry, to ensure we can quickly and easily help you with finance options. Speak to us about this in more detail.