Description
Acteon Air-N-Go Air Polisher
Supra-gingival polishing and daily prophylactic polishing
The Acteon Air-N-Go Air Polisher helps support dental clinicians with supra-gingival polishing and daily prophylaxtic polishing.
The Air Polisher provides:
Two Modes
An adaptable handpiece is highly effective for supra-gingival polishing in its 'Supra' Mode and it's 'Perio' function is ideal for Sub-gingival polishing treatments: maintenance, periodontal and peri-implant.
4 Nozzles
The unit offers 4 Air & Go fully autoclavable nozzles for the perfect removal of pathogenic bacteria.
Range of Powders including Perio
Acteon offers a range of powders for both Perio ('Pearl' Ultra-active) and Supra ('Classic' in 5 different flavours) 
Gentle
Treatments for patients are proved to be gentle and efficient.
Easy Connection
Easy to set up, as it can be linked directly to your high-speed connector and the unit can be purchased with a Kavo, W&H, Bien-Air, Sirona or Mid-west adaptor.
"SUPRA function" for supragingival polishing and stain removal
"PERIO function" for subgingival polishing, periodontal maintenance and peri-implant treatments

A single handpiece to cover a range of care and treatment
360° swivel handpiece for fast and accurate treatment
Parts can be dismantled for easy cleaning
Sodium bicarbonate"CLASSIC" powders
Glycine"PERIO" powder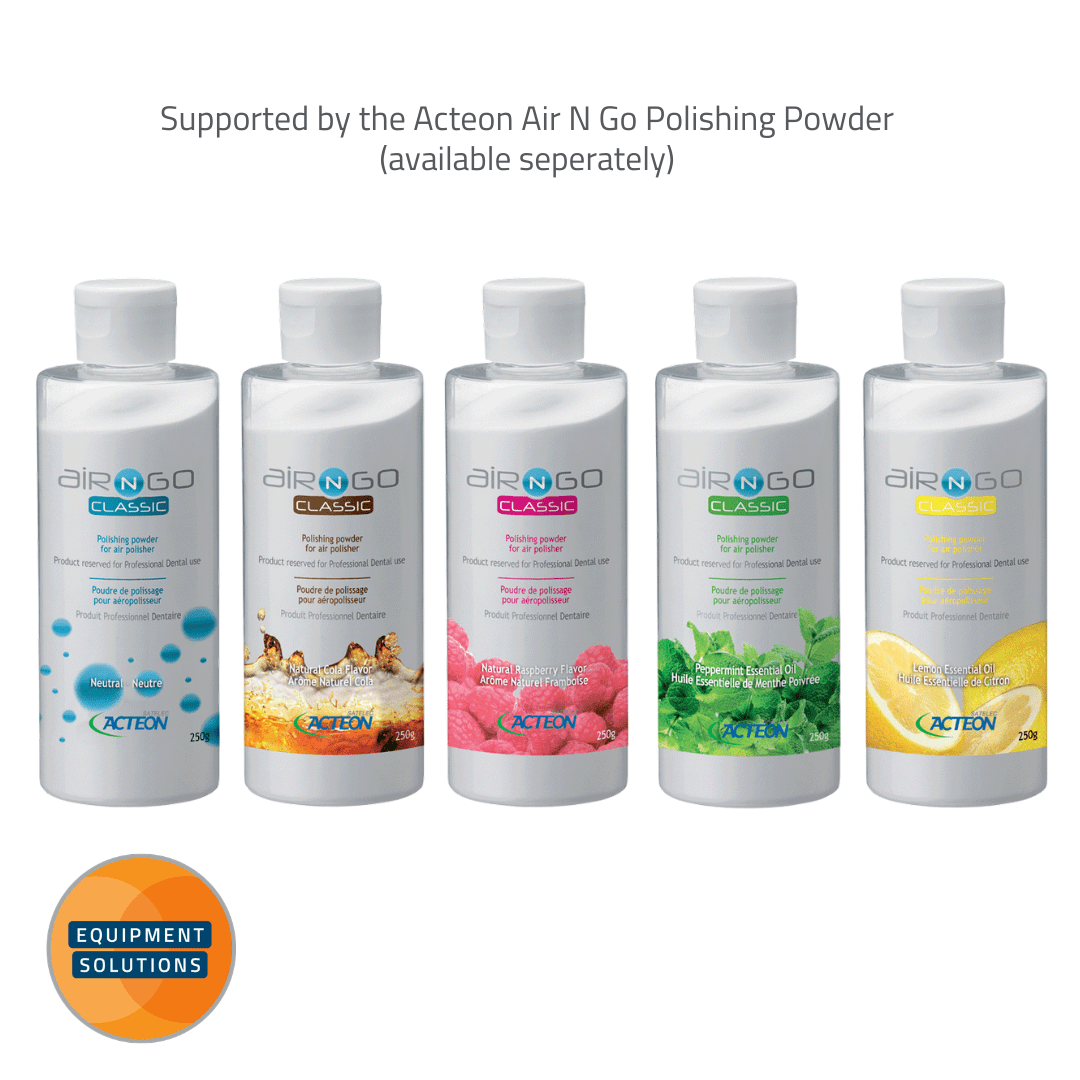 Specfication of the AirNGo:
Air Polisher
Length

180 mm - 205 mm depending on adapter

Height

70 mm - 95 mm depending on adapter

Diameter
Weight

114 g - 155 g depending on adapter

Irrigation
Intake water pressure
Recommended water output flow at the nozzle tip
Inside each box contains:

1 x Air-N-Go 'easy' handpiece with adaptor depending on the model

 2 x Supra 120° nozzle

1 x Intro kit of 10 multi-flavour sticks of "CLASSIC" powder and 2 x Sticks of "PEARL" powder

1 x Maintenance kit (syringe of silicone grease, applicator brushes for silicone grease, replacement o'rings, syringe and cannula, cleaning probes)

 2 x Autoclavable Casings

1 x Perio Kits  (1 x Perio easy nozzle & 1 x perio powder) To be purchased separately.