Description
Planmeca ProScanner 2.0
User-friendly and reliable imaging plate scanner
The Planmeca ProScanner 2.0 is a high-quality option for fast and dependable intraoral imaging. With intelligent design details and outstanding durability, the scanner supports everyday tasks at a dental clinic.
Ease of Use
Planmeca ProScanner 2.0 significantly speeds up the intraoral imaging workflow with its fast scanning process. Just insert the imaging plate, scan it, and diagnose the captured image. If the wrong side of the plate is accidentally exposed, it is easy to notice immediately from the captured image.
Planmeca was established in 1971 and is a Finnish manufacturer of high-tech dental equipment, such as 3D and 2D digital imaging devices, dental units, CAD/CAM solutions, and software. Planmeca offer dental clinics a completely digital solution, based on the capability to network all digital dental equipment with one software platform.
Planmeca Romexis Software Integration
Each imaging plate is equipped with a digital serial number that allows sorting, viewing and comparing images for quality control, as well as counting exposures by using the serial number of each plate in the Planmeca Romexis software.
Reliable and Dependable
Planmeca ProScanner 2.0 has been designed to be a seamless part of a clinic's workflow. It is a true workhorse imaging plate scanner that is maintenance-free and extremely durable. The compact scanner fits into any room, helping all clinics prevent downtime and ensure maximum efficiency.
Smart Imaging Plates
Planmeca ProScanner 2.0 utilises RFID technology for fast scanning and identification. The imaging plate scanner's high-quality plates can be used numerous times and the integrated eraser instantly prepares them for further imaging. The flexible imaging plates are very comfortable for patients and available in the most common sizes – 0, 1, and 2.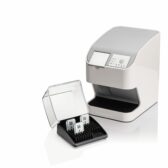 Specifications for the Planmeca ProScanner 2.0
Imaging plate sizes

Size 0 - 35 x 22 mm (1.38 x 0.87 in.)
Size 1 - 40 x 24 mm (1.57 x 0.94 in.)
Size 2 - 41 x 31 mm (1.61 x 1.22 in.)

Pixel size

30 μm



True resolution

12 lp/mm

Theoretical resolution

16.7 lp/mm

Bits per pixel / Gray scale

16 bit / 65536

Weight

4 kg (8.8 lbs)

Dimensions (H x W x D)

231 x 167 x 216 mm (9.1 x 6.6 x 8.5 in.)

Connection

Ethernet RJ45

Operating voltage

100-240 VAC, 50/60 Hz

Eraser

Embedded
Practice Design Centre
Visit our extensive showroom, and speak to our refurbishment experts, about creating your ideal working space. Compare equipment (New and Used) and furniture from our world leading brands. Talk interior design and let us help inspire you. Appointments include weekends and evenings.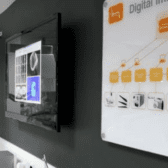 Equipment Consultation
Talk to the team about a demonstration at your practice for this product. Working alongside the UK dental industry's best manufacturers we will provide honest independent adivce. Equipment trials available on some items.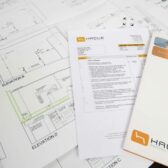 Hague Dental Team understand the financial demands on any practice. The extensive funds required for any surgery refurbishment, or investment required on the development of a new squat practice. We work alongside leading finance brokers that support the dental industry, to ensure we can quickly and easily help you with finance options. Speak to us about this in more detail.