Description
Planmeca Compact™ i3 Dental Chair Package
Small, swift and clever
The Planmeca Compact™ i3 Dental Chair is a small, flexible unit:
Warranty
5-year standard warranty 
Flexibility
The Planmeca Compact™ i3, a nimble and intelligent device, offers exceptional flexibility, enabling dental professionals, whether right or left-handed, to comfortably work in any position.
Simplicity
The purpose behind the design of Planmeca Compact i3 is to streamline routine dentistry tasks. With its user-friendly touch panel, the dental unit provides guidance in your preferred language. Additionally, the unit's straightforward design ensures that external infection control procedures are effortlessly executed.
Upgradable 
Individual preferences can be accommodated through customisation of the unit, allowing users to select desired features, such as integrating an intraoral scanner, making it highly adaptable and tailored to their needs.
Planmeca was established in 1971 and is a Finnish manufacturer of high-tech dental equipment, such as 3D and 2D digital imaging devices, dental units, CAD/CAM solutions, and software. Planmeca offer dental clinics a completely digital solution, based on the capability to network all digital dental equipment with one software platform.
The additional benefits of the Planmeca Compact™ i3 Dental Chair are:
From right to left in 10 seconds
With Planmeca Compact i3, switching from right to left-hand use takes a mere 10 seconds by moving the instrument console, without the need to adjust the operating light. This practical feature makes it an ideal solution for clinics with multiple dentists using the same dental unit and limited space.
Space-saving
Planmeca Compact i3 seamlessly integrates into any clinic layout, providing ample working space for comfortable operation in both sitting and standing positions. The compact instrument console can be conveniently positioned above the patient, promoting an ergonomic posture throughout the day. Moreover, the unit's swivel function enables precise adjustments according to your personal preferences.
Planmeca PlanID™
The dental unit features the innovative Planmeca PlanID™ sign-in system, enabling dentists to access their personalised settings instantly. This flexible approach eliminates the need for assigning specific units to individual users, making it easier for clinics to utilise their equipment efficiently.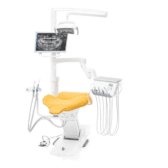 Specifications for the Planmeca Compact™ i3 Dental Chair 
Mains frequency:

50 or 60 Hz (cycles) independent of the mains voltage setting

Power consumption

The idle power consumption is less than 300 VA. Maximum power consumption is 1450VA.

Water inlet pressure

3 bar to 9 bar (43 psi to 130 psi)

Air inlet pressure

5,5 bar to 9 bar (80 psi to 130 psi)

Suction line pipe

ø min. 50 mm (2")

Weight

About 130 kg
Site survey & 'PlanDemo' Planmeca's Mobile Showroom : Recommended
Practice Design Centre
Visit our extensive showroom, and speak to our refurbishment experts, about creating your ideal working space. Compare equipment (New and Used) and furniture from our world leading brands. Talk interior design and let us help inspire you. Appointments include weekends and evenings.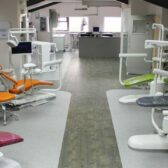 Equipment Consultation
Talk to the team about a demonstration at your practice for this product. Working alongside the UK dental industry's best manufacturers we will provide honest independent adivce. Equipment trials available on some items.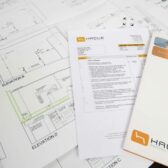 Hague Dental Team understand the financial demands on any practice. The extensive funds required for any surgery refurbishment, or investment required on the development of a new squat practice. We work alongside leading finance brokers that support the dental industry, to ensure we can quickly and easily help you with finance options. Speak to us about this in more detail.