Description
Cattani AC900 Dental Compressor
Suitable for up to 18 Surgeries
The Cattani AC900 Dental Compressor is a reputable option for a large practice with 14-18 surgeries (14 simultaneously). 
Cattani, formally known as Cattani Spa (est. 1967), first started in Italy. In 1989 Cattani UK were introduced into dentistry. Cattani UK have earned their reputation from 30 years in the market place, supplying suction and compressed air, via the leading dental retailers, to dental facilities, hospitals, universities and the military. The standard of the products they offer is amazing which could definitely explain why they're the world Leading manufacturers for air technology equipment. They offer a cluster of different innovative products such as high quality suction pumps and compressors, amalgam separators, suction tips and adaptors, disinfectant and sanitising products.
All Cattani oil-less compressors such as the Cattani AC900 come with a 5 year guarantee (subject to terms and conditions of servicing schedule).
Quality of Product
Cattani compressors are oil-less and equipped with 4 filters, which guarantee high-quality pure dry compressed air.
100% Duty Rating (Duty Cycle)
Cattani compressors such as the Cattani AC900 are ideal for keeping surgeries running smoothly as they should run with no standstills unless switched off.
Reliabiltity
Top tier compressors for reliability.
Efficiency
Feed multiple surgeries consistently and stress-free.
Strong Support
If you feel like you might struggle with the transition to a Cattani compressor, think again. They have always offered constant communication and support to customers in need. They have a particularly strong UK base which allows them to send out/install parts quicker than any other manufacturer in its sector. 
Sound Reduced
A noise-reducing plastic cover is used to reduce the sound pressure level from 4-9 dB (A).
Upgradeable
The antibacterial filter (HEPA H14) can be fitted to all compressors.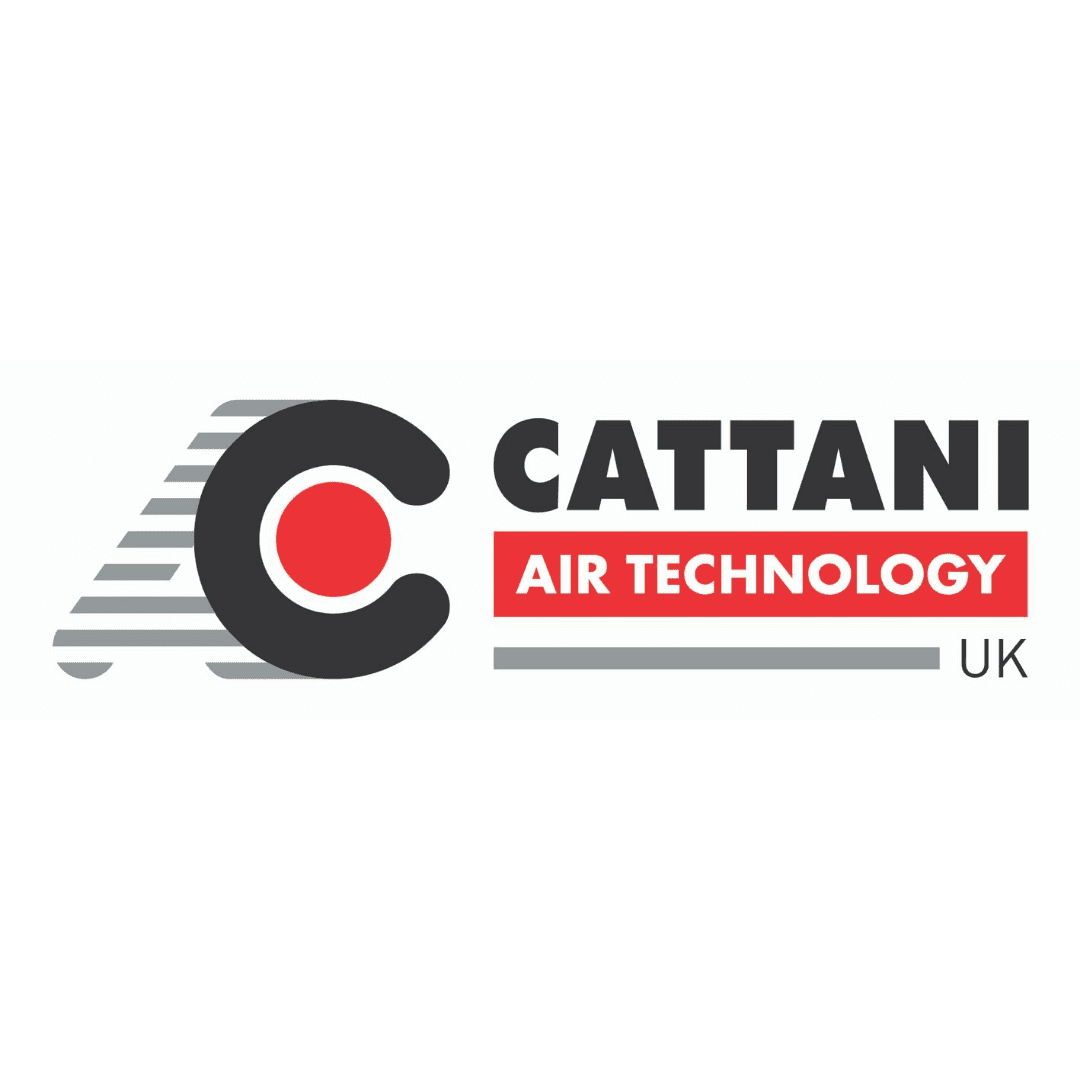 Quality of Product
Cattani compressors are oil-less and equipped with 4 filters, which guarantee high-quality pure dry compressed air.
Reliability 
Cattani compressors are extremely dependable.
Structure/Strength
Cattani compressors are known for being strong/robust.
Ergonomic design
User friendly, aesthetically pleasing and designed to compact all the components into as small a unit as possible.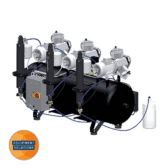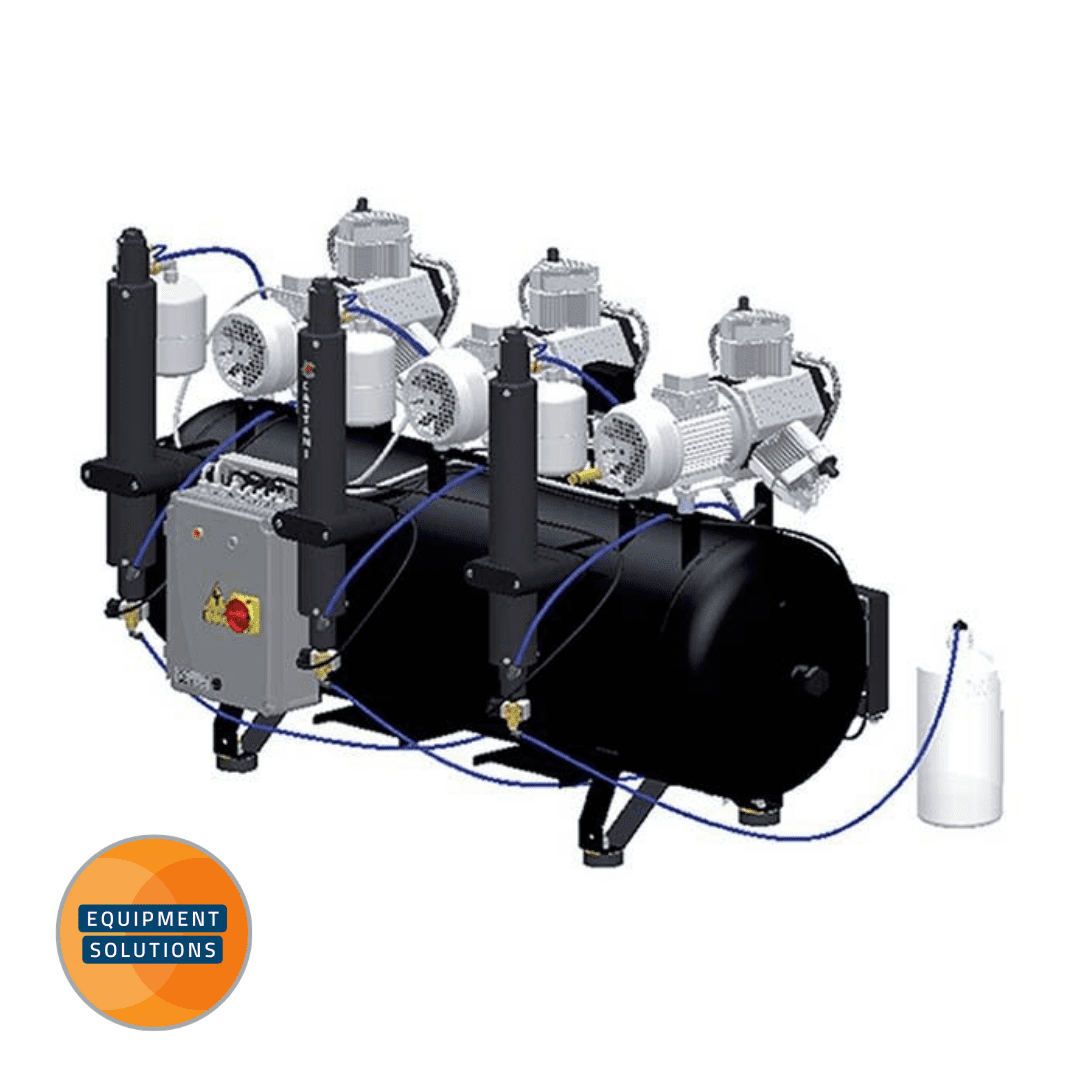 The specification of the Cattani AC900:
Product Code

013599

No. of Surgeries

14-18 surgery

No. of Cylinders

3 cylinder triple motor

No. of Dryers

3 dryers

Output power

3~ 50Hz Total 4.5kW – 11.1A

Produced air

714N l/min (pressure at 5 real bar)

Air Tank Volume

300 Litres

Noise level

75dB(A)

Dimensions

W1800 D810 H1000 (mm)

Net Weight

227Kg

Gross Weight

278Kg

This compressor is single phase, but 3 phase is available upon request.
Practice Design Centre
Visit our extensive showroom, and speak to our refurbishment experts, about creating your ideal working space. Compare equipment (New and Used) and furniture from our world leading brands. Talk interior design and let us help inspire you. Appointments include weekends and evenings.
Equipment Consultation
Talk to the team about a demonstration at your practice for this product. Working alongside the UK dental industry's best manufacturers we will provide honest independent adivce. Equipment trials available on some items.
Hague Dental Team understand the financial demands on any practice. The extensive funds required for any surgery refurbishment, or investment required on the development of a new squat practice. We work alongside leading finance brokers that support the dental industry, to ensure we can quickly and easily help you with finance options. Speak to us about this in more detail.