Description
Belmont 900 LED Light
Cost Efficient with High Performance Illumination
The Belmont 900 LED Light is modern and innovative in design for your dental surgery. Its shadowless circular light head provides a light pattern that delivers a high performance and helps reduce eye strain.
White Natural Light
The 5,000 Kelvin beam clearly illuminates the oral cavity with 10 LED bulbs.  These are encased behind one single piece cover previenting mist and dust entering the head and reducing maintenance.
The design of the LED's is such that it offers a pattern of lights that is 'feathered' which help dental clinicians to treat patients with less fatigue.  
No Heat
Unlike many traditional halogen operating lights historically, this unit ensures you work comfortably.
Composite Mode
The Curing Safe mode at 5,500 Lux.
Mounting Options
Whether you opt for an integrated chair mounted unit, a ceiling mounted light for superior ergonomics or a wall mounted unit, A-dec has a range of solutions suitable for your needs.
Takara Belmont are a Japanese manufacturer of dental equipment, with a respected and historic UK base. Their products are known for their outstanding levels of reliability. All of the range offer a robust solution for your surgery. With parts readily available and engineers across the UK experienced in their units for support and servicing. Belmont equipment is a solid choice and investment.
Compact, Light and Ergonomic
The small 180mm head has a triple-axis head movement and a zero drift arm of the Belmont 900 LED Light to ensure ideal positioning.
Unique Stepless Control and Light Indication

Adjust the intensity by rotating the knob between 4,000 and 32,000 lux. The light dislays the modes: green for High, and yellow for Low and flashing for 'cure safe mode'.  
Control with Ease
Touchless ON/OFF Sensor Switch which eliminates infectious contact during operation. Also the light automatically has an ON/OFF function with preset chair positions.
Patient Mirror Options
Unique to Belmont's LED is the addition of a handy patient mirror.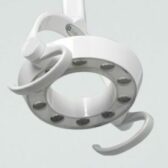 The Belmont 900 LED Dental Light Specification:
Number of Lights within the Head

10

Focal Distance

650mm

Colour Temperature

5000° Kelvin

Light Intensity

Normal Treatment Mode 4000 Lux ~ 32000 Lux

Composite Mode 5500 Lux

Light Pattern

85 mm x 155 mm

Power Requirement

Type 901/902/905 AC230V 50Hz 0.26A
Type 920 DC20V 1.2A

Pole Length for Ceiling Mounted Options

Standard 100cm

Optional 150cm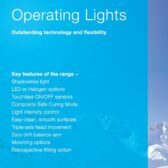 Hague Dental Team understand the financial demands on any practice. The extensive funds required for any surgery refurbishment, or investment required on the development of a new squat practice. We work alongside leading finance brokers that support the dental industry, to ensure we can quickly and easily help you with finance options. Speak to us about this in more detail.