Description
Murrays Gemini HGEM-SAB Nurse's Stool with Swing Around Backrest
The Murrays Gemini HGEM-SAB Nurse's Stool with Swing Around Backrest is a specialist stool. With a 360 degree rotatable arm, this can provide lumbar support, as well as arm and torso support when required, without having to straddle the seat. This stool is extremely popular with dental nurses.
The versatility of the stool helps to prevent any discomfort or straining, as the swing arm can provide support wherever the nurse may need it most depending on the scenario.
To provide further stability and pelvis support, a foot ring comes standard, helping promote a healthy, neutral posture.
Based in Arundel, Murray Equipment Ltd was established in 1953, and is a respected manufacturer of specialist, clinical seating supplying directly to the NHS.
Wide Selection of Upholstery
The stool can be created to match the colour of your dental chair package (A-dec & Belmont)
Foot Operated Control
This option can be added to enable you to keep you hands free during treatment.
Footring
A foot ring to help user stability and keep the pelvis in its neutral position.
Hand Controls
With these the height and angle of the chair can be adjusted to preference.
'Banana' Backrest
The ergonomic shaping of the backrest is designed for comfort and to hold the user in the chair.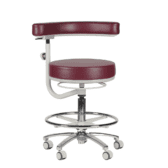 Practice Design Centre
Visit our extensive showroom, and speak to our refurbishment experts, about creating your ideal working space. Compare equipment (New and Used) and furniture from our world leading brands. Talk interior design and let us help inspire you. Appointments include weekends and evenings.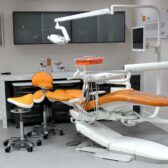 Trials Available
We encourage all of our customers (where possible) to try before you buy. Whether you are considering a saddle or more traditional stool, this is a long term investment for you and your health.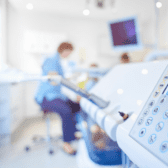 Got a question?
Click the "Can we help?" button in the bottom right of your browser and one of our award-winning team will contact you.