Description
Labomed Magna Microscope with wall mount and NuVar 10
Compact, ergonomic design
Experience the remarkable Labomed® Magna dental microscope, combining crystal clear visualization with a compact, ergonomic design.
Various mount options
Available with floor mount (mobile), wall mount, or ceiling mount. 
Stepless Zoom
While zooming in, the object remains visible throughout the entire range of magnification. Using the Magna, the image remains constant but progressively enlarges as the zoom increases.
Automatic Balancing Arm (ABA)
With a cutting-edge Automatic Balancing Arm (ABA) providing 360 degrees of freedom, and a responsive apochromatic zoom system for precise magnification, it's the ultimate tool for your practice.
Flexibility in microscope positioning
Unlock unparalleled flexibility in microscope positioning with an ingeniously crafted electromagnetic brake system. Enhance versatility with dedicated left/right handles featuring brake-release buttons, granting effortless movement while held down. Experience secure locking and precise balance as the microscope stabilizes upon release.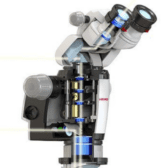 Additional Benefits of the Labomed® Magna dental microscope include:
Superior Resolution
Discover the convenience of a continuous range of magnifications with our cutting-edge zoom system, housing premium apochromatic optics. Standard with the NuVar™ variable working distance objective (f300-f400mm), our microscope delivers unmatched versatility. Experience reflection-free, durable optics with our proprietary MaxLite™ coatings, guaranteeing superior resolution.
Shadow-free light
Illuminate your workspace with the brilliance of a super bright LED, offering shadow-free light and a natural daylight temperature (over 105,000 Lux). Enjoy up to an impressive 60,000 hours of continuous lighting. Fulfill your digital documentation requirements with ease, as the ProLine™ offers a wide range of adapters for digital SLR cameras, video cameras, and CCD devices.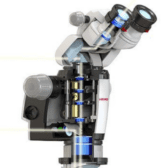 The Specification of the Labomed® Magna dental microscope
Mounting system:

Wall mount

Suspension arm:

1100 mm 

Magnichanger:

Galilean Zoom 1:6, convertible to 8 step magnichanger, 0.4-2.5X

Viewing bodies:

0-210° tilting head with Rotoplate, DBSi (inclined double beam splitter), Double Iris and DSLR Adapter, IPD range 50-75 mm

Objective:

NuVar 10 with variable focal length adjustment from 300-400 mm with fine focus mechanism

Eyepieces:

WF 10X/18 mm lockable eyepieces, one with resolution markup to assist in diopter adjustment

Observation head:

ABA system with ergo head

Illumination:

Fiber optic illumination 50W LED, up to 60,000 hours of LED lamp lifetime, 105,000 Lux

Input:

AC 115-240V, 50/60Hz

Vertical movement of arm:

± 250 mm, power saving feature with light cut-off in park position

Fuse:

Quick-acting fuse 1.0 Amp

Standard accessories:

Dust cover for microscope observation head and illumination box
Practice Design Centre
Visit our extensive showroom, and speak to our refurbishment experts, about creating your ideal working space. Compare equipment (New and Used), as well as furniture from our world leading brands. Talk interior design, and let us help inspire you. Appointments include weekends and evenings.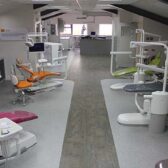 Hague Dental Team understand the financial demands on any practice. The extensive funds required for any surgery refurbishment, or investment required on the development of a new squat practice. We work alongside leading finance brokers that support the dental industry, to ensure we can quickly and easily help you with finance options. Speak to us about this in more detail.