Description
Eau Flow Dental Reverse Osmosis Unit
Designed to Save Dentist Time & Money
The Eau Flow Dental Reverse Osmosis Unit is a water purifier that utilises utilises RO to replace distillers and bottled water, and is ideal for practices. Designed for use in autoclaves, dental chairs, ultrasonic baths and other clinical water equipment.
Distilling water and using bottled water is complex, difficult to maintain, not very reliable, not environmentally friendly and costly.
The Eau Flow eradicates these problems as it purifies water within minutes, doesn't use much storage space and is extremely cost efficient.
Poor Water Quality Alert

The RO unit includes a multi-level filtration system and a innovative water quality meter that continually checks the water quality to make sure its pure and filtered. There is an alert sent out the the user if there is any unacceptable water.

The built-in lie quality meter keeps you unformed.
Easy to Replace Filters Avoiding Expensive Callouts and Service Costs

The filters are attached with a bayonet system that is very simple to use, staff members can easily insert new filters within seconds, meaning no downtime.
Compact
The unit is 40cm x 38cm x 15 cm in size only, so can easily fit under a sink in a decontamination room or other.
For over 10 years, CleanCert Innovations has operated at the forefront of high-performance clinical infection control and water management.
We help clinical practices manage infection risks without the need for toxic chemicals; we produce pre-mixed solutions to save time and provide one-step applications to reduce the downtime associated with multi-step processes.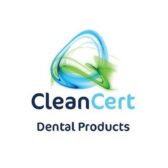 Addtional benefits of the Eau Flow Reverse Osmosis unit include:
Effectiveness
Works seamlessly with CleanCert biofilm cleaner to eliminate established biofilm matrixes found in any water system. The unit offers a simple proprietary cleaning kit to remove any bacteria. 
Delivery of consistently pure water due to pump and storage tank, even when your mains water pressure falls, with a choice of storage tank to comply with specific needs.
Option to monitor both organic (bacteria) and inorganic water issues.
Quick Release Filter Change

The Quick-Change bayonet filter means that maintaining the Eau Flow only takes seconds.Quick release' bayonet connections enabling staff to be able to rapidly carry out tool-free maintenance.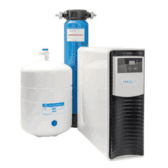 Specifications for the CleanCert Eau Flow Reverse Osmosis Unit are:
Weight kg

12 filter 4 tank

Dimensions: LxHxW (cm)

40 x 38 x 15 (tank 28 dia. x 38 h)

Storage Tank

12L (8, 20, 40 & 75L available)

Electrical supply

13 amp socket. 1.2m lead

Length of dispensing gun tubing

2m
Practice Design Centre
Visit our extensive showroom, and speak to our refurbishment experts, about creating your ideal working space. Compare equipment (New and Used) and furniture from our world leading brands. Talk interior design and let us help inspire you. Appointments include weekends and evenings.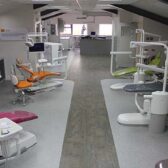 Click below for an easy to follow cleaning tutorial from CleanCert themselves.

This video shows you how to run a cleaning procedure through your Eau Flow water filter in around 20 minutes. We recommend doing this once a year or whenever the system needs disinfecting- (eg after 2 weeks of not using the unit or if the water storage tank has been contaminated by your water source)
Got a question?
Click the "Can we help?" button in the bottom right of your browser and one of our award-winning team will contact you.