Description
JUN-AIR 2 Surgery Dental Compressor
The JUN-AIR Single Surgery Dental Compressor (OF302-25BQ2) is a great product to accompany two surgeries with air.
The range of JUN-AIR products we offer at Hague Dental are all oil-less Rocking Piston compressors.
JUN-AIR, established in 1958, are a current leading supplier of quiet air compressors used in laboratories, dental clinics and medical facilities worldwide. They supply a full range of standard and customized compressors equipped to supply one or more surgeries with compressed air.
Since they first begun, JUN-AIR have kept up continuous development to their products and production facilities. This has allowed JUN-AIR to keep up a good reputation among more than half a million customers.
JUN-AIR have a fantastic new series of products (OF series), with fewer moving parts, which reduces noise, vibrations and the sustainability of the product. The reduced level of noise and vibration is approximately 65 Db(A).
Customer Warranty
Provided that the instructions for operation, maintenance and service have been carries out, your JUN-AIR compressor is guaranteed against faulty material or workmanship for 2 years.
The air receiver is guaranteed for 5 years.
The guarantee does not cover damage caused by violence, misuse, incorrect repairs or use of unoriginal spare parts. Costs of transportation of parts/equipment are not covered by the guarantee.
Reliability 
JUN-AIR's OF series offer some really great reliable compressor posibilities.
Compact Unit
The JUN-AIR Single Surgery Dental Compressor (OF1202-40BQ3) is only 556 x 571 x 678 mm and is therefore a great little compressor to go in a plant room or in the back pocket of a surgery.
Sustainable
Long-lasting and continual life when you choose a JUN AIR Single Surgery Dental Compressor.
Specification of the JUN AIR OF302-25BQ2:
Suction

108 l / min

FAD

30 l / min 8 bar

Volume

65 dB (A)

Compressors

2

Cylinders

2

Pressure in the tank volume

25 l

Permissible ambient temperature

+ 5 ° C to + 35 ° C

Supply voltage

230 V, 50 Hz

Engine power

0.44 kW

Power consumption

3.5 A

Thermal protection

Integrated

Duty

100%

Dirt particles ISO 8573-1: 2010

Class 2, 1 μm

Water quality according to ISO 8573-1: 2010

Class 2, -40 ° C PDP

Weight

33 kg

(LxWxH)

510 x 460 x 610 mm
Practice Design Centre
Visit our extensive showroom, and speak to our refurbishment experts, about creating your ideal working space. Compare equipment (New and Used) and furniture from our world leading brands. Talk interior design and let us help inspire you. Appointments include weekends and evenings.
Equipment Consultation
Talk to the team about a demonstration at your practice for this product. Working alongside the UK dental industry's best manufacturers we will provide honest independent adivce. Equipment trials available on some items.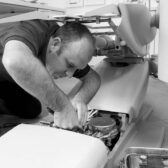 Hague Dental Team understand the financial demands on any practice. The extensive funds required for any surgery refurbishment, or investment required on the development of a new squat practice. We work alongside leading finance brokers that support the dental industry, to ensure we can quickly and easily help you with finance options. Speak to us about this in more detail.